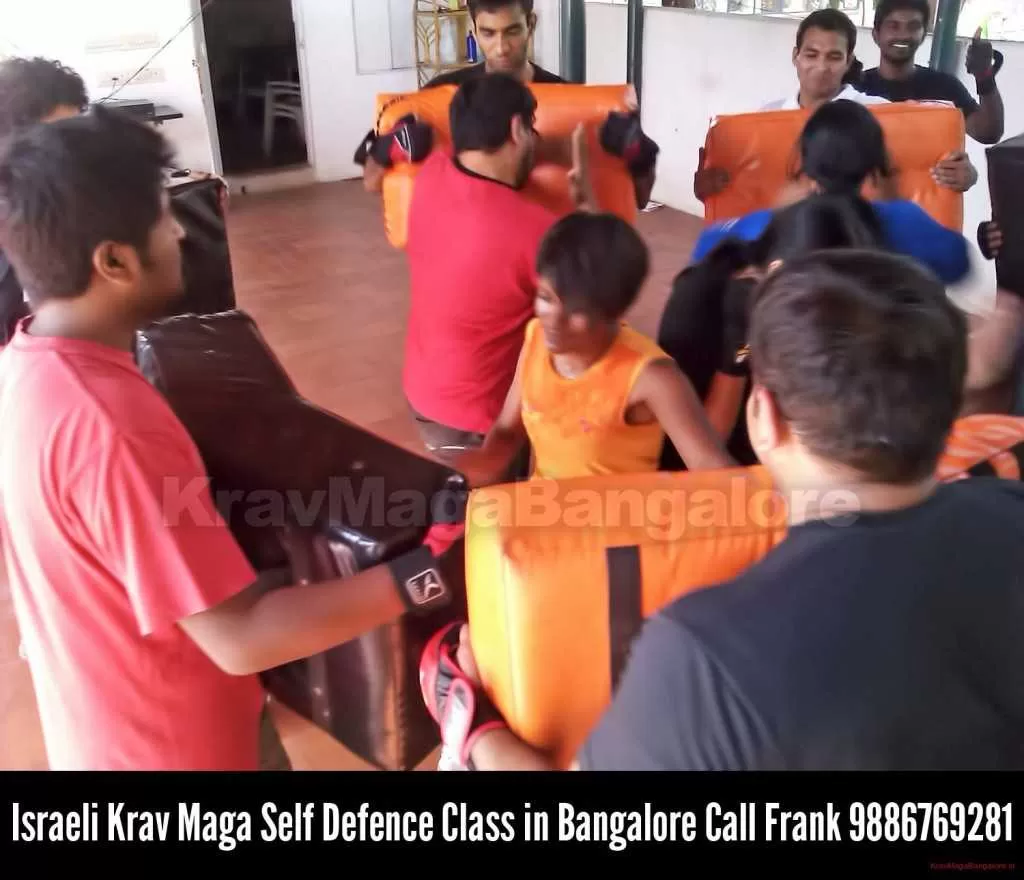 Call 9886769281 to join Krav Maga Self Defense.
Krav Maga, a self-defence technique developed in Israel, literally means 'contact combat' or 'close combat'. Relying on human instincts, this hand-to-hand combat involves wrestling, boxing, grappling and striking techniques. With traces of street fighting techniques, Krav Maga is easy to adapt and reproduce.
"Krav Maga is a form of self-defence that deals with realistic scenarios where there are no rules. It deals with prevention from threat, psychological buildup to empowerment, verbal self-defence, soft and hard tactical defence against eve-teasing, groping, molestation and rape. It is an instant realisation and reaction to an action or attack," says Franklin Joseph, instructor, Israeli Franklin Joseph Krav Maga Bangalore Self-Defence in Richmond Town. Franklin Joseph is the only Krav Maga instructor in Bangalore.
[KravMagaSelfDefenseBengaluru.in] [Post] According to Franklin Joseph, this art of close combat was developed by Imi Lichtenfeld, a trained boxer and wrestler in Bratislava in order to help protect the local Jewish community during the German military invasion.
Krav Maga trains one to be ready for any lethal situation regardless of age, size, strength and fitness. "The common attack targets in Krav Maga are chin, groin, throat, eyes jaw and knee. If you are attacked from the back and choked, you will not waste time resisting, instead when pushed back you'll raise your foot to attack his groin," he continues.
Krav Maga is popular because there are no esoteric martial art techniques that are put to use. Instinctive punches and kicks used in natural self-defence are polished. Krav Maga is an excellent fitness routine and helps in building stamina, confidence and helps to burn those extra calories. Many law enforcement agencies and intelligence agencies like the FBI have adopted it.
The Bangalore chapter of Krav Maga has trained around 300 people —among them men, women and children. For Kunga Uuangyal, 28, who is a student at the Krav Maga Academy of Self Defence, this art of close combat has pushed him beyond his limits, both physical and psychological.
"Learning this art form for more than two and a half years has been a huge help in building confidence. I now know how to react to situations that need quick thinking and action," says Kunga.
"The fitness routine followed in Krav Maga is very intense. The workouts and exercises could be strenuous for a girl but constant resistant practice has equipped me with techniques to defend myself and I'm not scared of walking alone on the roads," says Urvashi Raizada, 18, an other student.
Stephanie Steiger, m other of a five-years -old is amazed to see drastic changes in her daughters Sanara's attitude. "She is confident, she enjoys it and is ready to startle all the big boys with her defence moves," says Steiger.
---
[Franklin Joseph Krav Maga Bangalore Photos] [Franklin Joseph Krav Maga Bangalore Videos] Design: Franklin Joseph
[Ad]: Enroll for Franklin Joseph Power to Women Empowerment Workshop on Safety Awareness and Psychological Empowerment / Preparation against Crime, Sexual Harassment, Sexual Abuse and Violence Workshop for Corporate, School and College
[Ad]: Enroll your children school and college forFranklin Joseph Power to Kids Workshop for School and College Safety Awareness and Psychological Empowerment against Crime, Abuse and Violence
[Ad]: Non-Lethal Self Protection Electric Shock Stun Device Now Legally sold in Bangalore, India For Self Protection for Daughter going to School and College, Old parents staying alone, and for Corporate Staffs in-Transit.
---