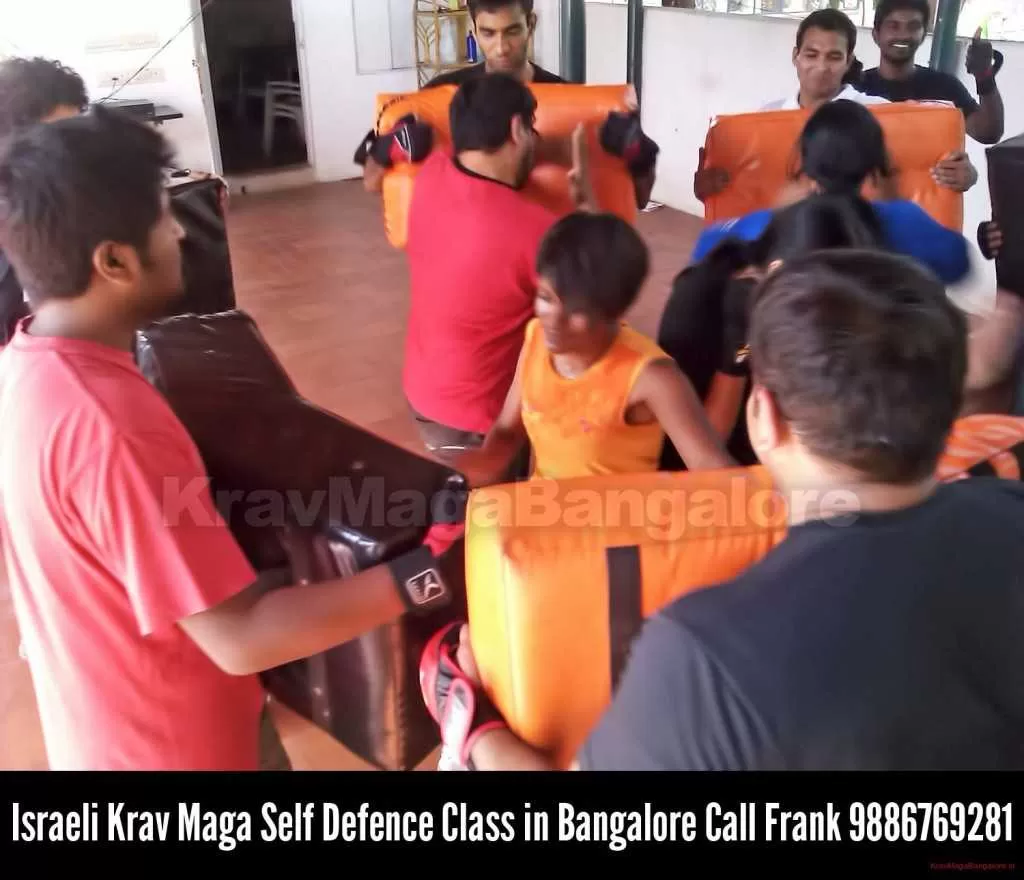 Call 9886769281 to join Krav Maga Self Defense.
Marie Claire India Magazine
If you are bored of your regular workout and years n for something different, give Krav Maga a try. Its a great exercise, with a kick of self defense thrown in.
What does fitness mean to you? If its just 'the right curves', then probably already have an information overload on the options that will you get there. But if fitness to you means mental agility, a healthy aggression, toned muscles and the ability to take down any potential threat with a kick in the groin, then you will have to look at the techniques like Krav Maga.
[KravMagaSelfDefenseBengaluru.in] [Post] It is an Israeli strategy that is especially suited to women. Pegged as a self defense technique, it equips students with tactical manoeuvres to deal with real-life situations when faced with an attackers. Krav Maga works on identifying, exploring and quicking human reflexes to be able to successfully combat any threat. It is defensive in nature and deals with potentially dangerous situations, making fitness a mandatory requirement for its students.
According to calculated estimates, one hours of Krav Maga helps burns approximately 800 calories. It's a fast-paced, high-energy workout designed to tone, build, sculpt and strengthen your body to be all it can be. Says Vicky Kapoor, Chief Instructor, Krav Maga India, "We follow a prescribed syllabus in our classes. In each session, students are taught to deal with different situations. For example, one session could deal with knife threats and next one with car-jacking. Depending on the techniques in question, different muscles are workout out in each session".
The various drills that Krav Maga uses include kick-boxing, punching, striking, aerobics (different cardio exercises combined with coordinates drills), anaerobic (power drills for various muscles group) and combative (punching and kicking the elbow and knee pads to loud music), ensuring that the workouts don't become monotonous for the students. It also results in all muscles of the body being workout in rotation, leading to a tremendous full-body exercise.
While these techniques were developed for the Israeli military, its inherent nature makes it ideal for women. The premise on which Krav Maga rests is self-preservation, or elimination of danger. "And while women may be physically weaker than men, they have stronger willpower. They are protectoby nature, making it easier for them to grasp this particular form of self-defense," explains Kapoor.
A regular Krav Maga class would begin with high-intensity cardio workouts and circuit exercise, followed by training in specialised manoeuvres. Owing to its rigorous nature, injury is a common worry for students. However, Kapoor assures that it is completely safe and suitable for all ages and body types. "Threats don't come to people based on their physical conditions. Anyone can be in danger and so everyone must know how to defend themselves."
An other concern about Krav Maga is related to its actual application. While it's one thing to practise the moves in a safeguard environment, its completely an other to be able to apply these when faced with real-life danger. To this end, there is a lot of concentration on mental fitness in these classes. Workshops are organised where different assaults scenarios are played out in real life setting, with the attackers verbally and physically attacking students. The padded attackers allows students the opportunity to practise full-power full contact defence techniques. Decision-making under high pressure situation is also taught in these workshops. "Scenario-based training gives the students a chance to experience the emotionally charged nature for such attacks and they learn how to react when overcome by an adrenaline rush." says Kapoor.
According to him, it takes anything between three to six months for a student to get a basic knowledge of Krav Maga. To be certified as a professional, one needs 180 hours of rigorous training. But what Kapoor regrets most is that students don't seem to pursue it for long. "Most women who come here don't join with fitness or self-defense in mind. They think of it as a weight-loss programme. And when they find a better option, they just leave. And so, while women are more in need of self-defense, their numbeare shrinking in our classes."
But there is little doubt about the effectiveness of Krav Maga – both as a self defense strategy and as a mean of staying fit. Celebrities like Jennifer Lopez, Lucy Liu, Angelina Jolie and Sandra Bullock are known to have practised it, while closer home it has found patrons like Bipasha Basu, Priyanka Chopra and Lara Dutta.
Krav Maga is not always pretty. It involves fist-fighting, groin-kicking, arm-twisting and even shoving and pushing. Unlike your feel-good aerobics class or the posh gym next door, this class can be painful and exhausting, with the occasional bruise thrown in. Its rough and tough, down and dirty. But it's also enjoyable, en-lighting and useful. It fulfils the basic need to defend oneself. And if Darwin's 'survival of the fittest' theory applies to this day and age, then there's no better way of surviving or staying fit than this. In Bangalore, the Israeli Franklin Joseph Krav Maga Bangalore classes are conducted by Mr. Franklin Joseph (9886769281).
---
[Franklin Joseph Krav Maga Bangalore Photos] [Franklin Joseph Krav Maga Bangalore Videos] Design: Franklin Joseph
[Ad]: Enroll for Franklin Joseph Power to Women Empowerment Workshop on Safety Awareness and Psychological Empowerment / Preparation against Crime, Sexual Harassment, Sexual Abuse and Violence Workshop for Corporate, School and College
[Ad]: Enroll your children school and college forFranklin Joseph Power to Kids Workshop for School and College Safety Awareness and Psychological Empowerment against Crime, Abuse and Violence
[Ad]: Non-Lethal Self Protection Electric Shock Stun Device Now Legally sold in Bangalore, India For Self Protection for Daughter going to School and College, Old parents staying alone, and for Corporate Staffs in-Transit.
---